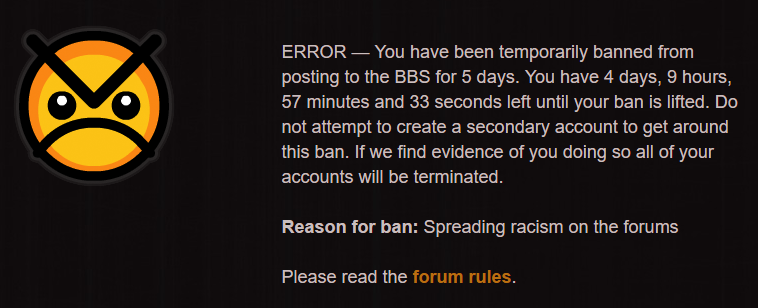 Apparently I hurt someone's fee-fees with one of my jokes to the point where they complained to a mod, or a mod himself took offense, meanwhile threads calling for the death of certain groups of people (as shown below) are allowed to stay up for 24 hours and counting. Now, I dunno if beakerboy got banned as well, but his thread not getting deleted and people still being able to post in it leads me to think nothing came upon him, and the dude's just as much of a spastic trolling cunt as I am, so I'd like to know why I in particular got the axe here and not him. Not the first time I've gotten a time-out from the mods bacause my sarcasm completely flew under their radar either.

So I'm taking the oportunity to go on a little break from Newgrounds, will probably still login every day or so just to deposit my exp and reply to PMs, maybe lurk the BBS for a couple of minutes but that's pretty much it for the time being, I'd say a couple of months should be enough but we'll see, maybe less than that, maybe more. We'll see.
14/88 14/88 14/88 14/88
HITLER DID NOTHING WRONG
THE HOLOCAUST NEVER HAPPENED
WATCH "THE GREATEST STORY NEVER TOLD"
Grovel over in my comments, please, thx.
Also, fuck N̶i̶g̶h̶t̶A̶i̶d̶s̶ StaticSkull I hope you get cancer, syphilis, gonorreah, radiation poisoning, lead posioning and herpes, fucking die in a ditch you collossal waste of air; out of the millions of people that die each day it's the utmost injustice that you're not one of them. Seriously, kill yourself because nobody'll miss you.